Blog
---
You can view the blog posts and comments below. To view the full news article or more information, click on the blog post title.
---
Date: January 23, 2017
Summary: Learn about Reg A+ stock transfer agent services: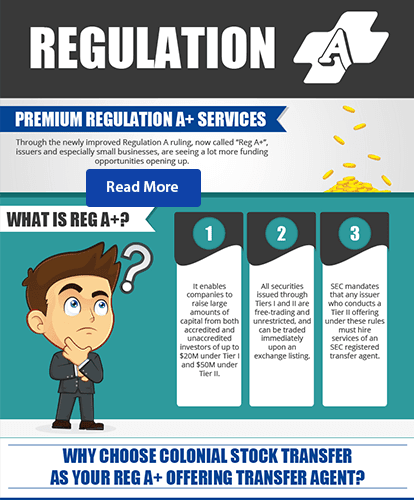 Full HTML Version
Full PDF Version
---
Date: January 10, 2017
Summary: The House of Representatives passed the Accelerating Access to Capital Act on September 8th, 2016 by a vote of 236-178. This act was designed to help small companies gain access to capital, through three important pieces of legislation.
Continue Reading about House of Representatives Passes Accelerated Access to Capital Act
---
Date: January 4, 2017
Summary:Chairman Jeb Hensarling sponsored the Financial Choice Act (H.R. 5983) on September 13, 2016. This bill alters many parts of the Dodd-Frank Wall Street Reform and Consumer Protection Act, as well as addressing long-standing and recent issues.
Continue Reading about Dodd-Frank Rollback Bill that Cleared House Committee.
---
Date: December 29, 2016
Summary: The Depository Trust Company (DTC) is proposing a new Rule 33 which would establish new circumstances under which the DTC would be allowed to release a Deposit Chill or Global Lock, in addition to the opportunity that Issuers have to challenge the restriction.
Continue Reading about the new rule on DTC chills and global locks.
---
Date: December 16, 2016
Summary: Learn about crowdfunding stock transfer agent services:

Full HTML Version
Full PDF Version
---
Date: October 20, 2016
Summary: DTC Eligibility is a term used when the securities of a public company become eligible for deposit into the DTC. DTC stands for the Depository Trust Company, which was founded in 1973 and is currently the largest depository in the world.
Continue Reading about DTC eligibility.
---
Date: October 03, 2016
Summary: When you attempt to start any small business or other venture and need funding, crowdfunding is an excellent option. Crowdfunding allows for funding through various investors and entrepreneurs using different web portals.
Continue Reading about choosing a crowdfunding transfer agent.
---
Date: August 05, 2016
Summary: The SEC Advisory Committee on Small and Emerging Companies met on February 25, 2016 to discuss access to capital and private offerings.
Continue Reading about the SEC's meeting.
---
Date: July 29, 2016
Summary: IEX was approved as a national stock exchange on June 17, 2016 to better protect investors by slowing down trades for high-frequency traders. Learn more about the stock exchange below.
Continue Reading about the IEX.
---
Date: July 27, 2016
Summary: OTC Markets released new rules updating elgibility standards and limitations for companies listed on the OTCQX tier. The changes will affect IPO listings as well as provide requirements ensuring companies adhere to proper corporate governance procedures.
Continue Reading about the rule changes for OTCQX listings.
---
Date: June 2, 2016
Summary: Learn what a full service stock transfer agent is about:
---
Date: May 3, 2016
Summary: The Title III Equity Crowdfunding ruling becomes effective on May 16, 2016. This means that companies that would like to raise money using a crowdfunding portal may do so. This article provides an insightful guide for funding portals regarding the registration process, limits and allowances for funding portals and other useful information in setting up a portal.
Continue Reading about the HR resolutions and acts.
---
Date: April 28, 2016
Summary: The H.R. 3784 SEC Small Business Advocate Act was passed by the House of Representatives to establish an Office for the Advocate for Small Business Capital Formation. If passed into law, the Act will allow the office to provide the SEC with advice regarding the interests and well being of small businesses and investors. However, the office will not be allowed to provide any advice to the SEC regarding any any policies, practices, or actions rearding the SEC's enforcement program.
Continue Reading about the HR resolutions and acts.
---
Date: April 27, 2016
Summary: This act attempted to direct the SEC to revise its previous regulations regarding the qualifications of natural persons as accredited investors. This act amends Section 2(a)(15) of the Securities Act by striking "; or" and inserting certain sections.
Continue Reading about the HR resolutions and acts.
---
Date: April 4, 2016
Summary: The House of Representatives passed a bill that directs the SEC to revise its rules to increase the threshold amount, after which issuers are required to disclose certain information relating to compensatory benefit plans as well as 5 smaller acts: Encouraging Employee Ownership, Fair Access to Investment Research and Brokerage Simplification, Small Company Disclosure Simplification, and Streamlining Excessive and Costly Regulations Review.
Continue Reading about the HR resolutions and acts.
---
Date: March 15, 2016
Summary: The SEC implemented revisions to certain conditions and requirements within Forms S-1 and F-1 in accordance with the FAST Act. The amendments include changes within registration statements for emerging growth companies and financial statement inclusions in registration statements.
Continue Reading about the amendments.
---
Date: February 17, 2016
Summary: Title III Regulation Crowdfunding is finalized and set to be effective for participation starting May 16, 2016. It is important for participating issuers to know what the different offering, disclosure, and eligibility requirements are and what benefits may be available.
Continue Reading to learn more about what companies need to know for Title III Crowdfunding.
---
Date: January 7, 2016
Summary: DTC proposed a rule that went into effect on January 1, 2016 requiring a fee to be placed on CUSIP eligibility requests due to corporate actions that DTC processes.
Continue Reading to learn more about the DTC Cusip Eligibility Fee.
---
Date: October 13, 2015
Summary: The SEC finalized a ruling in which it will require companies to provide a pay ratio disclosure in its SEC filings of the principal executive officer's compensation relative to the median employee's compensation.
Continue Reading to learn more about the SEC ruling regarding pay ratio disclosure.
---
Date: June 22, 2015
Summary: OTC Markets is proposing amendments to its standards to allow Regulation A securities to be listed on the OTCQB tier
Continue Reading to learn more about the SEC Regulation A OTCQB Listing.
---
Date: May 21, 2015
Comment:The SEC proposed a new ruling on executive compensation and fiscal performance that would require companies to provide certain disclosures regarding the relationship between executive pay and company performance. The disclosures would be required to be reported in XBRL formats, allowing the SEC to compare results accross industries and companies.
Continue Reading to learn more about the SEC Regulation A Expansion.
---
Date: April 22, 2015
Comment:The SEC finalized its ruling on the Regulation A expansion, known as Reg A+, allowing non-reporting small companies to raise capital with free-trading shares prior to going public. This allows companies that are planning on going public to attract investors by offering free-trading shares while private.
Continue Reading to learn more about the SEC Regulation A Expansion.
---
Date: March 3, 2015
Comment:Since October 2014, XBRL exhibits submitted by public companies have carried the same liability provisions as HTML filings under the anti-fraud provisions of the Securities Law. Rule 406T by the SEC requires filers to submit accurate XBRL filings with a "good faith effort" and to be held to the same standards of accuracy and quality in both EDGAR and XBRL filings.
Continue Reading to learn more about the XBRL limited liability expiration.
---
Date: February 19, 2015
Comment: In December, the SEC announced the unveiling of a program that will allow investors and analysts to have an easier time analyzing financial statements using XBRL. The data that public companies provide via XBRL will be pooled into structured data sets for external users.
Continue Reading to learn more about the SEC's pilot program.
---
Date: January 16, 2015
Comment: On the second day of the year, U.S. House of Representatives failed to pass HR 37, "Promoting Job Creation and Reducing Small Business Burdens Act". HR 37 would have exempted small public companies with under $250 million in annual revenue from filing in XBRL.
Continue Reading to learn more about congress rejecting HR 37.
---
Date: June 2014
Comment: The OTC Markets are introducing changes that will enhance market for traders, investors, and analysts. New regulations will be introduced to public companies that will improve the retrieval of publicly available information. The forthcoming changes are set to be implemented within the calendar year. SEC, International, and Bank reporting companies are all subject to initial and continuing requirements. The initial roll-out of the eligibility requirement began on May 1, 2014. Visit OTCMarkets.com for more information.
---
Date: February 2014
Comment: The SEC believes that issuers seeking offerings pursuant to Section 4(a)(6) of the Securities Exchange Act would find it easier to raise capital, that would otherwise be difficult through implemented JOBS Act provisions. Since Startups and smaller businesses are more likely to have smaller and more variable cash flows than their fellow larger businesses, financing from their own business operations may be limited and unstable. Additionally, since smaller issuers may have a limited amount of working capital, traditional bank loans may be turned downed due to the fact that they do not have as much collateral. Accordingly, issuers can expect to benefit from a market featuring securities-based crowdfunding as they would not have to endure as many hardships raising capital.
Should many issuers seek to obtain capital through securities-based crowdfunding, the competition amongst allocators of capital could increase, which could result in a lower cost of capital for all issuers.
Continue Reading about what issuers can expect from crowdfunding.
---
Date: December 2013
Comment: DTC proposes a rule on Deposit Chills and Global Locks to assist DTC and issuers in the processing of such restrictions. One such example is in proposed Rules 22(A) and (B):
"The proposed Rules 22(A) and (B) establish a procedure which provides for:(a)criteria for notice to an issuer that a Deposit Chill or Global Lock will be imposed,(b) an explanation of the specific grounds upon which the restrictions are being or have been imposed, (c) the actions that the issuer must take in order to prevent or remove the restriction, (d) the process DTC will undertake to review written submissions of the issuer and to render a final decision concerning the restriction, and (e) maintenance of a complete record for submission to the Commission in the event an issuer appeals."
If the rule is approved, DTC will have a greater legal viability in applying chills and locks on issuers. This may negatively affect issuers and its ability to resolve chills. However, now that there is more clarity with the chill disclosure and removal process, it may be easier for issuers to expedite the removal of a chill.
---
Date: November 2013
Comment: The Securities and Exchanges Commission ("SEC) has agreed to draft rules under the Jumpstart Our Business Startups (JOBS) Act to allow companies to offer and sell securities through crowdfunding. SEC Chair Mary Jo White stated that the intent of the JOBS Act is to make it easier for start-up companies and small business to obtain equity through a wide range of investment opportunities from investors worldwide. In October of 2013, the SEC obtained public opinion and comments regarding the proposed rules for a 90-day period through the end of last year.
The proposed rules would permit investors to invest a certain amount of capital into a company. The amount of capital that can be invested into a company would be subject to thresholds set forth by the SEC. In order for companies to receive capital from investors they would need to disclose certain information about their offers, and create a regulatory framework for the intermediaries that would facilitate the crowdfunding transactions.
Continue Reading about the SEC proposal on Crowdfunding.
---
Date: October 2013
Comment: The SEC approved the NYSE Proxy Fee Proposal, which raised several fees charged to issuers by Broadridge. To see what fees changed, please view these articles: STA Comments and Rebuts NYSE Proposal on Proxy Fee Increases and NYSE Proposal Endorses Proxy Fee Increase.
---
Date: October 2013
Comment: DTCC ("DTC") explains the reasoning and process in placing Deposit Chills and Global Locks on securities at DTC and how issuers can object to such restrictions.
DTC explains the eligibility requirements for book-entry services. Securities must be issued pursuant to Section 5 of the Securities Act of 1933. These securities must be free-trading as well. DTC holds all deposited securities under the registration of Cede & Co., DTC's nominee. If DTC comes to an understanding that deposited securities are not free trading, they may restrict services for the securities. The restrictions range from a chill issuance to a global lock. DTC proposed rule change gives issuers notice and the ability to challenge possible deposit chills and global locks.
Click here to read more on the restrictions on book entry securities.
---
Date: September 2013
Comment: DTCC ("DTC") released a corporate action flyer to help issuers better understand the corporate action process at DTC. DTC reiterated that it is critical that issuers should notify DTC well in advance of the upcoming corporate action by sending any documents to mandatoryreorgannouncements@dtcc.com. Typically, DTC requires issuers to send a legal opinion to make their security DTC eligible after the corporate action has been processed. Thus, contact information for the issuer and legal counsel should be provided.
Click here to view the corporate actions flyer released by the DTC.
---
Date: May 2013
Comment: The SEC order instituted proceedings to evaluate the proposed NYSE proxy fee structure. The SEC believes that questions remain as to whether the Exchange's proposal is consistent with the requirements of: (1) Section 6(b)(4) of the Act, including whether it provides for the equitable allocation of reasonable fees among its members, issuers and other persons using its facilities; (2) Section 6(b)(5) of the Act, including whether it is not designed to permit unfair discrimination, or would promote just and equitable principles of trade, or protect investors and the public interest; and (3) Section 6(b)(8) of the Act, including whether it would not impose any burden on competition that is not necessary or appropriate in furtherance of the purposes of the Act.
---
Date: March 2013
Comment: DTCC ("DTC") released a press release on March 12, 2013 regarding the proposed steps to continue with the dematerialization of physical securities in the United States. The proposals specifically relate to physical certificate elimination which will help to lower costs and mitigate risk for the individual shareholder and the issuer.
In the press release, DTC mentions four main "pillars" of focus to achieve dematerialization. Here are the four pillars:
Leveraging the Direct Registration System (DRS) to issue statements of book-entry holdings rather than physical certificates.
Continue Reading for a list of all of the remaining pillars and how it will affect the markets.
---
Date: March 2013
Comment: The Securities Transfer Association (STA) has commented on the broker fee increase proposal submitted by the NYSE PFAC committee. With an 18-month effort by NYSE PFAC to review and update the broker proxy fee schedule, the STA has recommended that the fee proposal should be disapproved for several reasons:
The NYSE rule filing does not include an independent review of proxy costs, as recommended by the NYSE Proxy Working Group in 2006;
The NYSE rule filing does not include a thorough analysis of the costs and benefits of the proposed proxy fee changes, using the same degree of rigor as the SEC applies to its own rules;
The proposed NYSE processing and intermediary unit fees do not allocate fees equitably between large and small issuers;
The NYSE proxy fee proposals favor the interests of broker-dealers and discriminate against issuers; and
The structure and level of the proposed NYSE proxy fees place a burden on competition.
Paper and Postage Elimination Fees: These fees were intended to cover the printing of a Voting Instruction Form ("VIF") and enclosing it with an annual report, proxy statement, and return envelope in a poly wrapped package. If these basic processing functions are not performed, then these fees should not be charged for a suppressed account. Additionally, and for the same reasons, Broadridge should not be permitted to charge a Notice and Access fee for suppressed accounts.
Continue Reading the STA comments and rebuttals on proxy fee increases.
---
Date: February 7, 2013
Comment: The NYSE proposes a beneficial holder proxy fee increase to be charged to issuers by brokers (Broadridge). These proposals result in several fee increases that affect both large and small issuers. Here are some of the notable changes and increases:
Intermediary Unit Fees - 28% increase for issuers with under 10,000 accounts
Paper and Postage Elimination Fees - 7% increase for issuers with more than 200,000 accounts
Registered vs. Beneficial Shareholder Fees - Registered shareholder fees charged by transfer agents were 40% less than the proxy fees being charged to provide the same services for beneficial owners.
Separately Managed and Wrap Fee Accounts - For a number of years, Broadridge and its broker-dealer clients have been charging issuers a series of proxy fees for separately managed accounts at the beneficial owner level. These fees are being charged despite the fact that investors in these accounts are not receiving—or expecting to receive—any proxy materials and are not casting any proxy votes. The NYSE PFAC believes that wrap fee accounts should remain on issuer invoices as billable positions.
Nominee Coordination Fees - 10% increase from $20 to $22 for each nominee holding of at least one share of an issuer's stock. According to the NYSE there are 900 bank and brokers that have to be contacted with each request. DTC charges only $0.75 to identify holders on the record date of a proxy and only $0.18 to $0.34 to transmit and deliver messages.
Notice and Access Fees - These fees are not included in the regulated NYSE proposals, but have increased by 0.51% as seen in recent studies.
Continue Reading about the NYSE proposal on proxy fee increases.
---
Date: December 21, 2012
Comment: The Securities and Exchange Commission today unanimously approved new rules requiring broker-dealers to conduct searches for holders of securities with whom they have lost contact.
Additional Materials
A similar rule already applied to recordkeeping transfer agents, who are the intermediaries between the clearing house and the broker-dealer. The Dodd-Frank Wall Street Reform and Consumer Protection Act tasked the SEC with extending the application of this rule to broker dealers so that broker-dealers have the same obligation.
The new rules also require broker-dealers and other securities market participants to provide notifications to persons who have not processed checks that they have received in connection with their securities holdings.
"For the first time, broker-dealers will have a duty to reach out and find those they have lost touch with. It's a straightforward rule with a common-sense objective," said SEC Chairman Elisse Walter. "Among other things, it will make it more likely that investors will get the money that they may not have realized is owed to them."
Specifically, the new rules:
Require broker-dealers to conduct certain searches for lost holders of securities that transfer agents currently are required to conduct.
Require "paying agents" – including certain issuers, broker-dealers, transfer agents, and other entities – to notify certain persons – termed "missing securityholders" in the statute and "unresponsive payees" in the adopted rules – in writing that the paying agent has sent the person a check that has not yet been negotiated.
Excludes paying agents from their notification requirement when the value of the not yet negotiated check is less than $25.
Add a provision clarifying that the notification requirement for paying agents shall have no effect on a state's ability to collect funds that it deems abandoned under so-called state escheatment laws.
Add a conforming technical rule to help ensure that broker-dealers have notice of their new obligations regarding lost holders of securities and unresponsive payees.
The original rule – Rule 17Ad-17 – required only recordkeeping transfer agents to exercise reasonable care to ascertain the correct addresses of "lost securityholders" and conduct certain database searches for them. This loss of contact can be harmful to holders of securities because they no longer receive corporate communications or the interest and dividend payments to which they may be entitled. In addition, the securities and any related interest and dividend payments to which the holders of securities may be entitled are often placed at risk of being deemed abandoned under operation of state escheatment laws.
The amendments will become effective 60 days after the date of publication of the release in the Federal Register. The compliance date will be one year after the date of publication of the release in the Federal Register.
---
Date: December 3, 2012
Comment: FOR IMMEDIATE RELEASE 2012-250 Washington, D.C., Dec. 3, 2012 — The Securities and Exchange Commission today announced that its staff will host a roundtable early next year to discuss the impact of decimal-based stock trading on small and mid-sized companies, market professionals, investors, and U.S. securities markets.
The roundtable will be held on Feb. 5 at the SEC's Washington, D.C., headquarters, and will be open to the public and webcast live on the SEC's website. Information on the agenda and participants will be issued shortly.
U.S. stock markets adopted decimal pricing increments in place of fractions in 2001, in part to address concerns that the U.S. was at a competitive disadvantage to markets outside the U.S. using decimal pricing. Proponents of decimal pricing also pointed to evidence of artificially wide spreads — the difference between the price to buy and sell a stock — with fractional pricing, which might benefit market makers at the expense of investors. Since the advent of decimalization, however, various parties have raised concerns that its adoption may be detrimental to small and mid-sized companies.
The Jumpstart Our Business Startups Act, or JOBS Act, enacted in April, directed the Commission to conduct a study of the effects of decimalization on initial public offerings (IPOs) and on small and middle-capitalization companies. In its Report to Congress on Decimalization, the SEC staff recommended that the Commission solicit the views of investors, companies, market professionals, academics, and other interested parties on decimalization generally, its effects on IPOs and on trading and liquidity for small and mid-cap companies, and what, if any, changes should be considered. The roundtable will provide a forum to discuss these issues and explore specific recommendations on structuring pilot programs to gather additional data and analysis on these issues.
---
Date: November 14, 2012
Comment: The Securities and Exchange Commission today issued an order providing regulatory relief to publicly traded companies, investment companies, accountants, transfer agents, and others affected by Hurricane Sandy.
The loss of property, power, transportation, and mail delivery due to the hurricane poses challenges for some public companies and others that are required to provide information to the SEC and shareholders. To address compliance issues caused by Hurricane Sandy and its aftermath, the order conditionally exempts affected persons from the requirements of the federal securities laws with regard to the following:
Exchange Act filing requirements for the period from Oct. 29, 2012 to Nov. 20, 2012, provided that the filer disclose the reasons why, in good faith, it cannot file on a timely basis
Proxy and information statement delivery requirements for companies or others attempting to deliver materials to affected areas
Investment Company Act requirements for the transmittal to shareholders in affected areas of the annual and semi-annual reports of registered investment companies for the period from Oct. 29, 2012 to Nov. 20, 2012
Transfer agent compliance with Exchange Act Sections 17A and 17(f) and Exchange Act Rules 17Ad-1 through 17Ad-20, and Exchange Act Rules 17f-1 and 17f-2 for the period from Oct. 29, 2012 to Dec. 1, 2012
Auditor independence requirements as they relate to reconstruction of previously existing accounting records for audit clients
---
Date: November 7, 2012
Comment: The Securities and Exchange Commission today announced the agenda and panelists for next week's Government-Business Forum on Small Business Capital Formation.
The event will begin at 9 a.m. on November 15 and will include two morning panel discussions. The first panel will focus on JOBS Act implementation and the second panel will focus on small business capital formation issues not addressed by the JOBS Act. In the afternoon, breakout groups will develop recommendations on a variety of issues related to small business capital formation.
---
Date: July 11, 2012
Comment: This white paper launches the final stage in the industry's long-standing campaign to achieve full dematerialization in the U.S. financial markets. It also opens a formal discussion among industry stakeholders to gain consensus on critical next steps.
---
Date: February 28, 2012
Comment: The Commodity Futures Trading Commission ("CFTC") and the Securities and Exchange Commission ("SEC," together with the CFTC, the "Commissions") are jointly issuing proposed rules and guidelines to implement new statutory provisions enacted by Title X of the Dodd-Frank Wall Street Reform and Consumer Protection Act. These provisions amend section 615(e) of the Fair Credit Reporting Act and direct the Commissions to prescribe rules requiring entities that are subject to the Commissions' jurisdiction to address identity theft in two ways. First, the proposed rules and guidelines would require financial institutions and creditors to develop and implement written identity theft prevention program that is designed to detect, prevent, and mitigate identity theft in connection with certain existing accounts or the opening of new accounts. The Commissions also are proposing guidelines to assist entities in the formulation and maintenance of a program that would satisfy the requirements of the proposed rules. Second, the proposed rules would establish special requirements for any credit and debit card issuers that are subject to the Commissions' jurisdiction, to assess the validity of notifications of changes of address under certain circumstances. (Comments must be received on or before May 7, 2012). Also visit: //www.sec.gov/news/press/2012/2012-34.htm
---
Date: February 8, 2012
Comment: The Treasury Department and the Internal Revenue Service today issued proposed regulations for the next major phase of implementing the Foreign Account Tax Compliance Act (FATCA).
---
Date: January 19, 2012
Comment: File Form 8937 if you are an issuer of a specified security that takes an organizational action that affects the basis of that security. The requirement to file Form 8937 applies to both domestic and foreign issuers of securities if the security is owned by U.S. taxpayers, either directly or as a depositary receipt.
---
Date: December 6, 2011
Comment: The purpose of this proposed rule change is to update the existing contractual operational arrangements necessary for a securities issue to become and remain eligible for the services at DTC.
---
Date: September 13, 2011
Comment: The Securities and Exchange Commission today announced the formation of the Advisory Committee on Small and Emerging Companies to focus on interests and priorities of small businesses and smaller public companies.
The committee is intended to provide a formal mechanism through which the Commission can receive advice and recommendations specifically related to privately held small businesses and publicly traded companies with less than $250 million in public market capitalization.
"Our capital markets are a critical source of funding for emerging companies and smaller public companies," said SEC Chairman Mary Schapiro. "That is why a key component in our agency's mission is to facilitate capital formation while at the same time protecting investors. This new advisory committee will increase the input we receive from the small business community."
---
Date: September 6, 2011
Comment: The Securities and Exchange Commission today confirmed that it is not seeking rehearing of the decision by the U.S. Court of Appeals in Washington, D.C. vacating a Commission rule, Rule 14a-11, which would have required companies to include shareholders' director nominees in company proxy materials in certain circumstances. Nor will the SEC seek Supreme Court review.
Chairman Mary L. Schapiro issued the following statement:
"I firmly believe that providing a meaningful opportunity for shareholders to exercise their right to nominate directors at their companies is in the best interest of investors and our markets. It is a process that helps make boards more accountable for the risks undertaken by the companies they manage. I remain committed to finding a way to make it easier for shareholders to nominate candidates to corporate boards.
"At the same time, I want to be sure that we carefully consider and learn from the Court's objections as we determine the best path forward. I have asked the staff to continue reviewing the decision as well as the comments that we previously received from interested parties."
# # #
Last year, when the Commission adopted Rule 14a-11, it also adopted amendments to Rule 14a-8, the shareholder proposal rule. Under those amendments, eligible shareholders are permitted to require companies to include shareholder proposals regarding proxy access procedures in company proxy materials. Through this procedure, shareholders and companies have the opportunity to establish proxy access standards on a company-by-company basis -- rather than a specified standard like that contained in Rule 14a-11...
---
Date: September 6, 2011
Comment: The NYSE has proposed a rule change to waive the requirement for foreign public issuers to become DRS eligible. In proposing this rule, the NYSE recognized that the laws or regulations of certain foreign countries might make it impossible for companies or listing applicants incorporated in those countries to comply with the DRS eligibility requirement of Section 501.00.
---
Date: March 8, 2011
Comment: The IRS released F.A.Q. for the new Cost Basis Rule today. This new web page also includes information about the overall rule.
---
Date: February 25, 2011
Comment: The IRS released the 2011 Form 1099B and Instructions today. The instructions include very detailed information and help related to the IRS cost basis regulations that went into effect on January 1, 2011. In the instructions, you can find information about the broker's role in reporting, transfer statements, corporate actions returns, covered and non-covered securities, short sales, wash sales, and barter exchanges. You can view the forms by clicking on the following links.1099B Instructions, 1099B Form
---
Date: February 22, 2011
Comment: Issuers are granted transitional relief when reporting to the IRS or filing tax returns on Corporate Actions as seen in section 6045B of the Internal Revenue Code ("Code"). However, issuers are still required to furnish information to stockholders and nominees of its stockholders.
---
Date: January 25, 2011
Comment: The SEC today adopted certain rules regarding shareholder approval of executive compensation also known as Say on Pay. These rules are a derivative of Dodd-Frank Wall Street Reform and Consumer Protection Act.
The SEC's new rules specify that say-on-pay votes required under the Dodd-Frank Act must occur at least once every three years and are required to hold a "frequency" vote at least once every six years in order to allow shareholders to decide how often they would like to be presented with the say-on-pay vote. Following the frequency vote, a company must disclose on an SEC Form 8-K how often it will hold the say-on-pay vote.
Under the SEC's new rules, companies also are required to provide additional disclosure regarding "golden parachute" compensation arrangements with certain executive officers in connection with merger transactions.
Smaller reporting companies with a public float of less than $75 million can rely on an exemption excluding them from the rule until Jan. 21, 2013. Companies at that time would be required to conduct the say-on-pay and frequency votes on their annual meetings.
SEC Chairman Mary L. Schapiro said, "I believe that this two-year deferral is a balanced and responsible way for the SEC to ensure that its rules do not disproportionately burden small issuers. The Dodd-Frank Act authorizes the Commission to exempt an issuer or class of issuers, but only after considering a number of factors including whether this disproportionate burden exists. The two-year deferral period is designed to assist the Commission in its consideration of these factors and will enable us to adjust the rule if appropriate before it applies to smaller issuers."
---
Date: October 16, 2010 Comment: The new cost basis rules are finalized to be effective January 1, 2011. This release explains the duty of the issuer, broker, transfer agent, and other financial institutions in reporting cost basis of stock to the IRS. Cost basis will need to be reported by issuers at the time of issuance or corporate action.
---
Date: September 27, 2010
Comment: The SEC approved FINRA Rule 6490 (Processing of Company-Related Actions). This rule details the following:
1) Timely notice required for certain corporate actions,
2) FINRA's regulatory authority when processing documents, and
3) Implementation of fees for these services.
Issuers must complete necessary forms and pay applicable fees by certain deadlines or they may be subject to delayed corporate action announcements and late fees. Read Colonial's Article or View Final Rule
---
Date: July 1, 2009
Comment: In a new rule effective January 1, 2010, the SEC has eliminated discretionary voting on directors by brokers. In the past, this rule allowed brokers to vote proxies on behalf of beneficial shareholders for uncontested directors for publicly held companies, as long as the beneficial shareholder had received the proxy materials with plenty of time before the meeting and had not already submitted votes.
Under the new rule, brokers' discretionary votes will not count toward the election for a director. Given the large number of shares held in street name, this will decrease the number of shares voted on directors, making it easier to unseat a director. This gives shareholders more responsibility in electing directors, so ensuring shareholders receive proxy materials with adequate time prior to the meeting, and duplicate materials if necessary to shareholders with significant holdings, will help guarantee adequate voting results.
---
Transfer Agent Services
Simplicity. Experience. Affordability.
In need of a transfer agent that cares? Learn More
Get a Quote